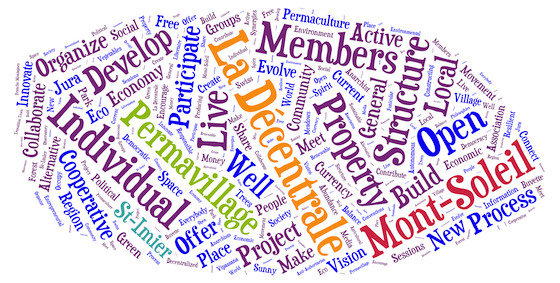 Das Genossenschaftsprojekt La Décentrale auf dem Mont-Soleil ist Treffpunkt und Spielraum für Menschen, um Ideen für Innovationen zu entwickeln, erproben und erfahren. Innovationen, die sich bewähren, tragen zu einem Kulturwandel zu einer selbstorganisierten Zivilgesellschaft mit nachhaltigen, dezentralen und resilienten Strukturen bei.
In La Décentrale treffen sich Menschen mit unterschiedlichen Muttersprachen, c'est pour ça that we speak and write dans des langues mêlée.
With the property La Décentrale, we are setting the seed for the Permavillage Mont-Soleil, a social space, open for innovative approaches to current and future challenges in society.

While this will be a place to live, it just as importantly is a place to make a living. With the Permavillage and La Décentrale at its core, we want to create less of a living community as is typically the case in eco-village projects and more a collaborative, innovative environment with an entrepreneurial spirit, where individuals and groups can connect and leverage their synergies.

We will be practicing and evolving forms of openly collaborative and socially responsible living, sustainable food production, focusing on better enabling and optimizing the use of already existing infrastructure and buildings, designing for inter-generational living, with a cultural, educational and economic exchange between urban and rural areas, planning around a local economy and a high degree of self-reliance, while building resilient ties with the economy at large.

The Permavillage does everything to encourage open doors and open structures within and towards its neighbours, the local economy and society at large. We want everybody to be able to contribute and participate. This open space shall be provided and kept, free of any expectation that the offered opportunities are utilized as anticipated. The doors shall remain open and the space be held.
The activities this project will include
At the beginning, La Décentrale will start its activities with multi-day seminars for small groups on topics related in different ways to the Permavillage project. Further economic activities will be the constructing of small housing, yurts, and roulottes, the renovation of the main building in various phases, as well as the permaculture project, a buvette, and the processing, refining and preservation of foods, including a line of local gastro-foods offered in partnering buvettes and restaurants in the area.

Further activities such as various kinds of product recycling and reuse projects, peer-to-peer education projects, alternative media projects, graphic design and software development projects or a political music festival, all are not beyond the scope of intended uses for the property either.
The permaculture project will initially focus on producing vegetables for a subscription based veggie-basket service in and around the hamlet on the one hand, and offering introductory permaculture courses on the other hand.

In collaboration with the local farmers, we will work to integrate additional farm land currently used for dairy farming and meat production, enabling the permaculture project to expand beyond La Décentrale. The project will expand to include the cultivation of locally uncommon plants with high nutritional and health benefits, such as khaki and amaranth.

One of the main objectives of La Décentrale will be to offer an environment and a place where people can come together to work on evolving common vision between different individuals and groups. Beyond the scope of the Permavillage itself, we will also start to do this same kind of work together with other organizations, such as Initiatives of Change in Caux, the Green Phoenix Congress on Schweibenalp, and Danach in Zurich or Vision 2035 in Bienne. The seminar offerings of La Décentrale will emphasize these aspects.
How it will work
The La Décentrale cooperative will be the proprietor of the property and negotiate service agreements with individuals and associations, making the property available as a resource for projects that are in line with the objectives of the organization, as described in this document.

The projects will feature a complementary economy based on an alternative currency that will encourage a large degree of gift economy, sharing and exchanging, and an interest free local money system, reducing the need for projects to generate profits in official currencies. To this effect, the cooperative will develop a decentralized alternative currency that creates money by directly funding projects.

The members of the cooperative will have funding rights in relation to the amount of their shares. In a semestrial process, the cooperative will determine the amount of new currency being issued, and select the projects eligible for funding. This will be followed by the individual members allocating their share of newly funded currency to these projects. This ability constitutes the primary benefit that members receive for their financial participation in the cooperative. As the cooperative grows, it intends to provide its members with liquid democracy based funding mechanisms.
Why the property and its location are ideal for this project
La Décentrale is a 10 room, 1904 built art-nouveau villa, surrounded by a 1 hectare property with mature park trees, sunny meadows and a small forest area. The house has in recent years been reverted to it's original state and will be minimally renovated to preserve it's historic value. It is structurally in good condition and is on the list of buildings for monumental protection.
La Décentrale is located in the heart of the hamlet Mont-Soleil, at 1200m altitude, near the mountain top and on the mountain ridge that carry the same name. Mont-Soleil is well known for its renewable energy installations, Switzerland's largest solar power station and wind-power plant. It serves as a research and demonstration facility that attracts a significant amount of visitors. Mont-Soleil is also well known for its astronomical observatory and its Vipassana meditation center.
Mont-Soleil is reachable by a funicular from the community of St-Imier, 400m lower down in the Vallon de St-Imier, which in turn is connected to the Swiss railway network. Also, small roads connect Mont-Soleil with St-Imier and in the other direction with the other villages of the Franche-Montagnes plateau.
The Mont-Soleil hamlet is not currently in any construction zone and is governed under agricultural zoning restrictions, with exceptions granted on a case by case basis. Establishing a new zoning plan for the hamlet is a long overdue promise of the community of St-Imier, but as was seen based on an information evening earlier this year, will be controversial, with different groups of people unhappy for several different reasons about solutions proposed by the community. There is an opportunity to develop an alternative proposal for a special "Permavillage" zoning plan that will be better able to accommodate and balance the various interests at play. The newly formed, local alternative-green party "Libertaire" will support us in developing this project, mobilizing support by the people and getting the political backing and approval.
The region belongs to the state of Berne, but with some neighboring districts having gained independance to form the state and republic of Jura, the Bernese-Jura region is being granted special autonomous rights. On November 24, 2013, the peoples of the region voted against a proposed formation of a larger canton Jura. With that, the region is set on a path to further strengthen its autonomous status.
St-Imier was at the center of history in 1872, when anti-authoritarian worker-associations from around the world gathered for the Congress of St-Imier to form the first international anarchist organization. The anarchism movement has advanced since then in many different regions in the world and has flourished to an abundance of political philosophies and related movements, such as the green movement and more recently the Occupy movement, which has sprawled a large set of new bottom-up and grass-root-democratic organizations active today.
All these historic dimensions tie in well with different aspects that are at the core of the vision for the La Décentrale property and the Permavillage project, such as permaculture principles, the transition town network and eco-villages. With the Permavillage we intend to embrace this abundance of influences and innovate to a new level of collaborative living.
We want the Permavillage to be a project that integrates well with the context that it is placed in. The environmental, socio-economic, historic and political circumstances of the area make Mont-Soleil an ideal fit for this project.
picasaweb.google.com
de.wikipedia.org
Aspects of the organizational structure
During the initial phase of the project, special consideration will be given to develop a solid framework for the organization's communication and decision making processes. A set of non-binding conventions should evolve based on best practices for various circumstances.

While the members of the organization together form the formal general assembly, the organization is directed by the organisation's board, which forms ad-hoc by inviting the organizations members to participate. Based on meritocratic principles, the general assembly can also elect non-members for eligibility to participate in board meeting sessions. The board uses high quality participatory processes to whenever possible form unanimous outcomes regarding the selection of individuals and associations and their ability to use resources of the property for their proposed and/or ongoing projects. The project will collaborate with the association Participate.ch to develop and evolve the facilitation methods that are used in these meeting sessions of the board.

Beyond the board meeting sessions, the organization will follow open organisation practices, inspired by the 40 years of experience gained in the open source software development movement, striking a balance between basic-democratic and meritocratic organization structures.

We currently use openly shared documents such as on Google Drive and Pages on iCloud for collaborative editing, Loomio for exchanging thoughts on ideas and concerns and voting in the spirit of temperature checks, and Trello for an open team based organizational workflow on tasks. The project generally encourages anybody and everybody to contribute and participate in its processes.

The various projects of individuals and associations, to which the La Décentrale organisation makes its resources available, will in principle be free to organize their internal affairs as they see fit, but such organization structures may be taken into account as part of the selection process. Another selection criteria should be the openness of the projects. Are they structured and documented in ways that make it easy for other individuals and organizations to participate or to learn from the project and duplicated it elsewhere?

The La Décentrale organization will also build structures and knowledge networks that will aid the various projects to succeed. As such, it will operate as an incubation hub for the new ventures of the projects, making the required professional support available to them, providing administrative support and aiding to find finances.
How you can get involved
If what you are reading here seem like a call for you, do not hesitate and just get in touch with us. We will be glad to provide more detailed information regarding the aspects that interest you further.

You can reach us via email at info@decentrale.ch or by calling 032 941 41 41.
To subsribe to the newsletter, go here: http://dezentrale.org/stories/532/
1.8.2014, 22:00